welcome to Hype Tips, sir knight!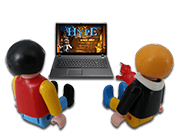 I introduce to you my very first pc game Hype - The Time Quest. Go to the game page to learn more about the game.
Register now to get in touch with other fans of Hype and share your favourite images and videos in the user uploads section.
Feel free to make a donation in order to keep this site alive. :)
This site is also fully accessible via mobile devices.
You can head back to the start page by clicking the HYPE logo or the bread crumb navigation at any time.